---
The game endorsed by armchair QB's everywhere!
---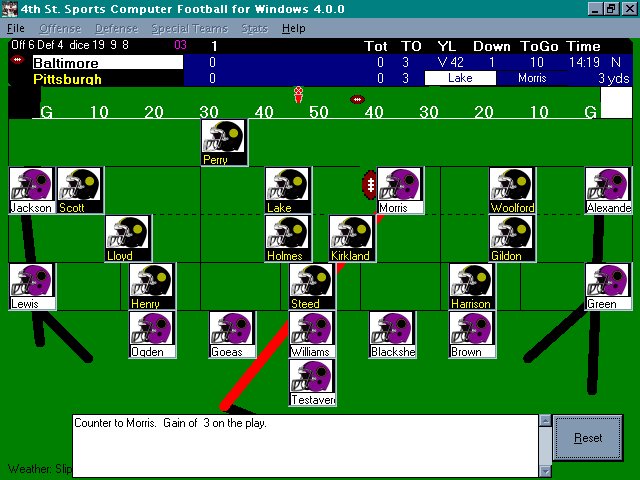 ---
Exclusive "stop-action". Offensive players move to a new location after the ball is snapped, then freeze momentarily to allow the defensive coach to move in response to the offensive team's play call. It also means that the offensive coach needs to be creative in his play-calling. A play-action pass REALLY LOOKS like a play-action pass!
Create your own team helmets!
Draft your own leagues (up to 5 of them) without having to "drop" all the players from their original rosters.
Easily keep track of stats. You can even post box scores or game logs as text files after the game.
A huge assortment of plays, all neatly organized by formation, ball carrier (or intended receiver), with simple names even your little sister can understand (like "dive" and "fly" instead of "7-8-2 ghost pattern deep").
Game updates so cheap you won't need that 2nd mortgage on your home to keep up with your team!
Look at your player's cards by just double-clicking on them.
Player ratings which actually mean something! Like a pass rush rating, or a power-run block rating.
Player substitutions are more than just cosmetic. They actually will affect the outcome of a play! Defensive stars will dominate plays. Offensive stars will make those mediocre d-backs look like 5th-graders at recess!
Set up your platoons so that you can maximize your players talents.
Find special team "kamikazees" to bolster your coverage and return units.
---
Still not convinced? Why not try it out...
FOR FREE!
Click on the download below to check out a FREE COPY of 4th Street Sports Football. This demo copy will allow you to play and organize 6 professional football teams from the 1997 season. If you like it, we know you'll come back for more! And at a first time cost of just $29.95 (with a coupon to save even more), you won't feel like you're going broke to do it. OR, print off the order form and order by mail today!
The requirements for 4th Street Sports Football are Windows 95 or Windows 98, and at least 5 MB of hard disk space.

FREE DOWNLOAD
This free download also includes the organization module of the program, which allows you to modify player cards, set up new leagues, modify old ones, draft players, etc.
---
Leagues................................
Check out these great draft leagues which uses 4th Street Sports Football!