4th Street Football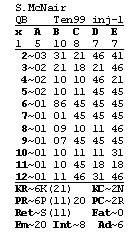 Coming soon!
The computer game goes paper...
4th Street Software's Football Boardgame Includes
50+ players rated per team, with player rating zones like the one above
player rating zones are conveniently laid out on paper in their formations for easy matchup identification
dice!
simple to learn, simple to play
over 30 play cards for each of 6 formations
specialized player ratings for blocking, pass rushing, receiving, passing, scrambling, coverage skills, kick coverage, etc.
VERY few charts...easy to locate, logical play results
defensive positioning of players
At this time, the game is being play-tested. Suggestions will be integrated into the game before its release. The game should be ready for shipment, including any seasons from 1994-1999, by NFL draft day, 2001. The 2000 season will be ready in June.
Send an e-mail if you have questions or wish to receive more information!